Google's Performance Summit revealed a few updates and features we expected, but one update caught us by surprise.

Sure, bigger focuses on mobile optimization, bigger text ads, device-agnostic bidding adjustments, and ads within Google Maps were updates we could have anticipated.
But getting rid of right-hand side ads entirely?
That threw us for a loop.
That's right – Google decided to eliminate right-hand, sponsored listings, AND increase the number of ads at the top of organic listings to FOUR.
It's an update that'll change your advertising experience completely, and here's why:
Hey, 4th-10th place companies on Google's SERP? The game just changed.
There used to be 3 ads within the top, sponsored ad section – with the remainder of sponsored ads appearing on the right side in a vertical column. Now, search pages will go from this format: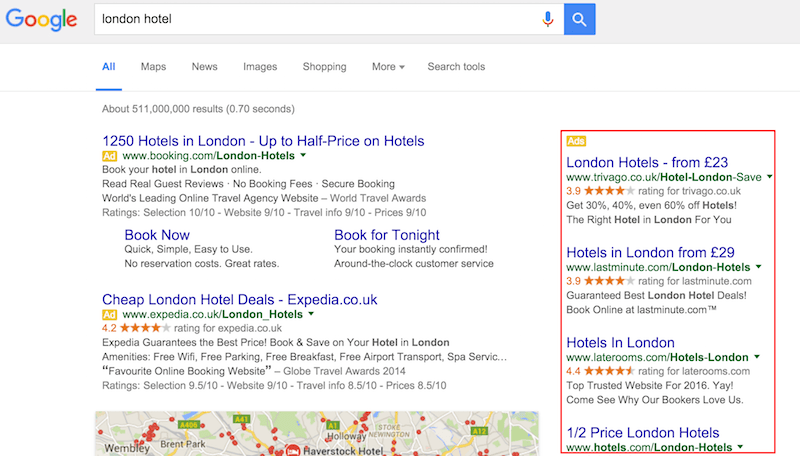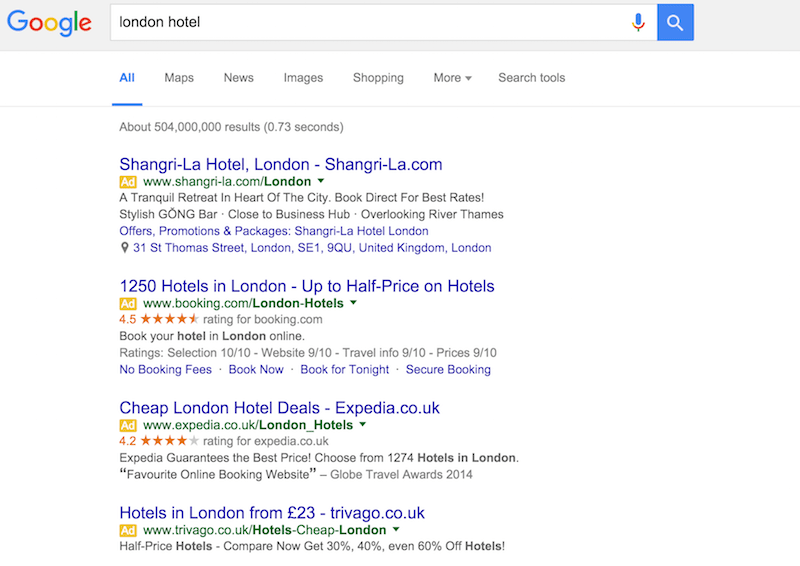 From a design perspective it's minimalistic, and clean-cut, but as an advertiser, it means that the competition will be even higher for the top spots.
With only 4 spots up top, it means that the pages will have 4 ads at the top, and 3 at the bottom – whereas previously, there were 10 spots total.
All ads will show ad extensions, but most importantly for YOUR advertising efforts: Organic search results are pushed downwards.
For your ads, this means that you'll need to make sure your Quality Score is top-notch to ensure good positioning–even more so than with the previous, right-hand ad setup. It also means that you might need to invest in paid-search efforts, if your ads have been solely organic.
We've said it before, and we'll say it again: Quality Score is the most overlooked way of achieving a high position in any SERP; especially considering Google's recent change, it's even more important!
As a refresher, your Quality Score depends on these factors (to name a few):
Click Through Rating (CTR)
Ad relevancy within each grouping
Landing page overall quality + relevance
Ad copy quality, search-ability + relevance
+ more
This means that with Google's Update, it's even more important to improve your ad copy, landing page best practices, and CPC strategy to ensure that your product/service listing is at the top end.
We agree with you; this is definitely a pay-to-play model, but that doesn't mean you should ditch an emphasis on SEO and your previous best-practices–yet.
Valuable keywords (#PokemonGO) become even more valuable to keep your ad in top-positioning, so ensure that you're going heavy on low-competition, highly-searched keywords for your CPC strategy to save you $$$, and get you better results.
Plus, that move helps to improve your ad budgeting AND positioning, at the same time.
Google Updates – Additional Features
As mentioned in the beginning, additional updates to Google's platform include:
Expanded Text Ads (ETAs)
Device-Agnostic Bid Adjustments
Responsive Display Ads
Price Extensions
These changes are all intended to improve foot-traffic to physical stores, and put an emphasis on mobile–a category growing 50% faster than other search types.
Before any user clicks on a link, ETAs are intended to bring more content and visibility to links. Previously, the headline was 25-characters long for a Google advertisement; now, it's being expanded to 30 characters. Likewise, the 35-character description is being upgraded to 80 characters, meaning that you'll be able to convey more messaging with added text!
Device-Agnostic Bid Adjustments
Mobile is here, and mobile is here to stay; which is exactly why Google's new features include a bidding system that separates campaigns by device type, which allows you to adjust your CPC strategy accordingly.
Whether it's on a tablet or for mobile-optimization, the shackles of desktop reign have been broken. While you can set base adjustments for each device, you can also adjust the CPA strategy for opt-ins, if that is your company focus, or CPC if your focus is impressions/clicks.
Not all devices are created equal–nor are your ad campaigns!
Hey, Internet? It's us, native advertising.
As you know, native advertising has been a major win within the past 5 years, taking companies like Yahoo from 0-100 in 2013, when CEO Marissa Mayer found out about the impact of native advertising. As a part of Google's new strategy, one of the major updates was creating display ads that are responsive on mobile devices, leading to a further push in mobile optimization.
Display ads will now respond, resize, and adjust to the look and feel of the device + platform for a better viewing experience. Ads are built dynamically by Google, and provide headlines, descriptions, images, and URLs.
This new extension for AdWords text ads reveals service/product prices directly below the ad itself! For mobile users, price extensions are key pieces of information that will help consumers make quick decisions in a split second.
"Price extensions show as multiple rows, providing valuable information to your prospective customers before they click on your ad. Each row features a type of product or service, its description and price, and a link to a relevant landing page. This structured way of highlighting information makes it easier for people to compare their options and decide if they're interested in your products or services – right from the mobile search results page." – Google AdWords
Essentially, these multiple rows will help to drive qualified clicks to your service or product pages, resulting in better conversion rates for your company.
Did you know that local listings help improve your ad visibility? They appear at the bottom of the top 4 sponsored ads, before the top listing of the organic search ads.
These listings appear on Google Maps as beacons, and have the requisite information listed below, including direct CTAs to your website, location, or phone number (if your company is mobile).
As always, Google is evolving–so are our advertising efforts. With the changes in display ads, and mobile ad optimization–make sure that your efforts are relevant.
Take advantage of opportunities with your Quality Score, CPC strategy, ad copy, and Landing Page best-practices to improve your positioning, and ensure that your ad efforts are hitting the target.
If you're looking for ideas or content to inform your programmatic ad strategy, or to justify moving to a new Demand Side Platform (DSP) for improved results, this post is a solid resource.The benefits of programmatic media buying for your brand.More specifically,...