They're mobile-minded, TikTok-obsessed, and probably confused by your CD collection: Generation Z is not to be taken lightly as the next wave of digital consumers with enormous purchasing power.
In this blog, we will take a closer look at this influential demographic and share some tips for advertisers to capture this audience!
You spent all this time learning about Spotify, the differences between Tinder and Bumble, and the hundreds of other digital nuances that make marketing to millennials a very specific process.
…Only to realize that there's a new generation of consumers who are even more digitally-oriented than their older siblings: Generation Z.
Now it's more about learning how to do the Savage dance on TikTok, why so many people love "Rick and Morty" or "Fortnite" and finding which influencers to follow and sponsor to best get your brand out there.
Here's a quick overview of the differences between Millennials and Generation Z.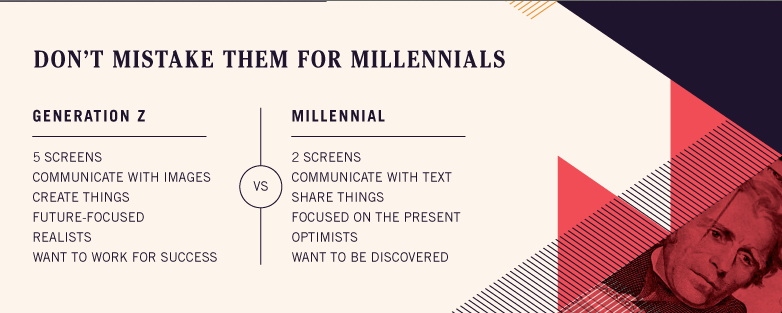 Generation Z refers to the demographic that was born between 1997 and 2012. As of 2021, they would be around 9 to 24 years old.
In 2020, there are about 2.56 billion Gen Z members worldwide, and by 2030, they will make out 30% of the global workforce.
According to the Pew Research Center, Gen Z members are the most racially and ethnically diverse generation and are on track to be the most educated generation yet.
In the United States, Gen Z is the largest subgroup, accounting for almost one-third of the population.
Generation Z is Tech-Savvy
Gen Z is born into a world of smartphones, iPad, apps, and more within the digital realm from the start. Because of this, they are used to finding and processing information online faster. Here are some quick stats:
94% of Gen Z'ers own laptops.
3 out of 4 say the primary activity in their free time is spent online
75% say they get most of their information from social media
Here is a great quote from Steph Wissink that sums up Gen Z and their fluency in digital:
Gen Z is one of the first generations (as a cohort) to be fluent in rapid information gathering. They can sift through institutional messages, to filter out excess noise, and to identify voices they can trust.
Generation Z Has Huge Purchasing Power
Globally, their purchasing power is $143 billion – that's right, billion!

Generation Z makes up 40% of global consumers. These are the categories they spend the most money on:
Food (restaurants, fast-food, beverages, etc.)
Entertainment (hobbies, etc.)
Appearance (hair, clothing, cosmetics, etc.)
Education (tuition, textbooks etc)
Car (gas, insurance, etc.),
Groceries
Mobile Phone
Bills
Public Transportation and more
It's estimated that up to 80% of Gen Z's decisions and needs influence the foods and products parents buy, which brings up another point: Gen Z have parents, friends, and older siblings, too. Therefore, the decisions and buying habits Gen Z has can and will influence the purchasing decisions parents can make.
Especially when it comes to the food and home product industry: up to 70% of home food choices are influenced by Generation Z.
How Marketers Can Win with Generation Z
Gen Z, along with their digital habits, is evolving faster than you can say the words "It's Lit". If you want to maintain your company's bottom dollar and keep your profit margins steadily increasing, Gen Z is the generation you need to be learning about – and fast. Luckily, we've got you covered – as always. Here are 5 essential points to consider when marketing to Generation Z to nail your messaging when it comes to marketing, because nowadays – first-impressions are all we have, especially with this generation.
#1: Target Cross-Channel Digitally
As mentioned above, Generation Z members are children of the digital age. Therefore, segmenting your audiences across different channels will be vital to your marketing strategy. You need to be in more places than one! Gen Z use: smartphones, laptops, tablets, desktops, and TV.
"Just Google it" is common sense to Generation Z. They typically turn to the internet (Google) to research and gather information and make purchasing decisions, so Search Ads are a must.
Tip: Think about how your Expanded Text Ads appear. Also, take advantage of things like callout extensions and site link extensions on your ads to ensure an easy as possible path to purchase.
As digital consumers, you can bet most of Gen Z is active on social media. Here is a glance at which social platforms they use the most: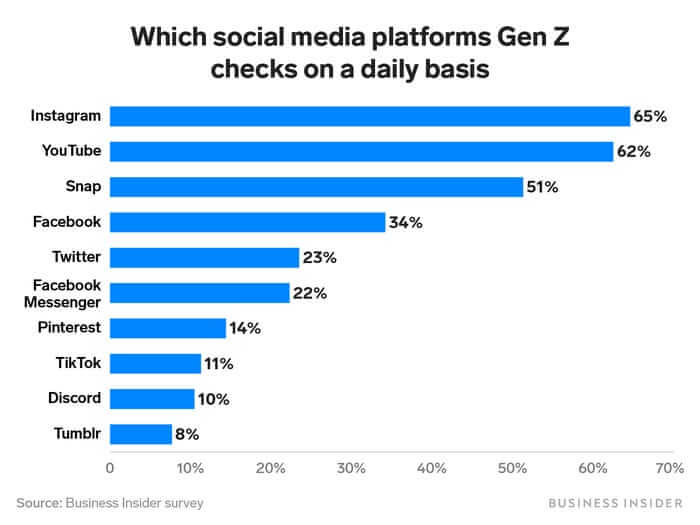 This survey was conducted in 2019, and TikTok has grown significantly in terms of usage. A recent study showed that young audiences spanning 4 to 15 years old spend a whopping 80 minutes a day on the app! To learn more about all the rage about TikTok and how brands can leverage the app, check out "What is TikTok?"
Looking at the survey graph above, brands should consider the following ad formats to run:
Instagram Ads
Snapchat Ads
Facebook Ads
Gen Z'ers spend most of their time watching Netflix (35%) and Youtube (37%). If you want to capture them on these platforms, consider running in-stream OTT (Over The Top) and video ads. In-stream ads are excellent for retargeting.
"The average attention span of Generation Z is 8 seconds. That's how long they decide if something is worth their time."
Be sure to capture their attention from the get-go!
Here is a quick breakdown of smartphone ownership amongst Gen Z across the world.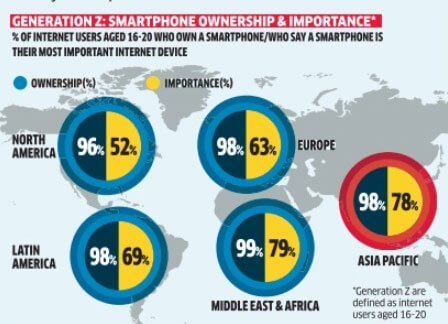 98% of Gen Z owns a smartphone. 91% of Gen Z'ers get their first mobile device before age 16; as a generation, Gen Z'ers are even more mobile-minded than their older millennial siblings.
As a result, it's even more critical to ensure that your landing pages, advertisements, and other brand communications are formatted for the best mobile experience possible.
#3: Social. Media. Influencers.
Do you know what Charli D'Amelio posted in her latest TikTok? How about Ben Brown or Kylie Jenner? Your Gen Z counterparts sure do.
In this day and age, Gen Z'ers primarily rely on YouTube, TikTok, Instagram, and Snapchat as their mediums for news, media, and entertainment. They spend 3+ hours on mobile watching video – more than any other activity. Therefore, extra dollars in your ad budget might not be best spent on PPC or print ads among Gen Z, but rather towards partnerships with social media influencers that impact Gen Z's decision-making process as leaders of the new, the trendy, and the engaging.
Take Ben Brown, for example, a famous photographer, videographer, and YouTube vlogger who makes a full-time living off influencer content creation and sharing his lifestyle.
Advertising and brand communications either through or with a social media influencer are seen similar to that of a native advertisement: providing genuine value to the end consumer and not interrupting their user experience.
Here is a news feature from 2017 on how influencers are changing the way companies market their products.
#4: Open-Minded, Culturally Aware
Compared to every other generation, the accessibility of information from a pop culture, social, and political landscape is higher than ever. Gen Z knows what changes are happening to the government, Snapchat filters, sneakers, and fashion trends before you can even finish writing that Tweet you had scheduled for later today.
An example of this would be clothing companies like Peace Collective, who donate a portion of their proceeds to the Breakfast Club of Canada, which provides Canadian children with healthy meals while at school. In fashion with TOMS' "Improving Lives" initiative, Gen Z gravitates towards socially conscious brands.
For you, that doesn't mean you have to become the Dalai Lama. At the very least, you can use your company platforms to speak on events and cultural shifts that are relevant (keyword being "relevant") towards your industry (i.e., this hilarious "Tiny Hand Soap" meant for "dirty politics").
#5: Engage, Don't Advertise
Gen Z makes decisions fast. So, in terms of your mobile-experience as a company, you need to be faster. Gen Z is experience-driven and care immensely about genuine brand engagement, so make sure all your advertising channels are reflective of conversations, not sending content at Gen Z.
Case-in-point, check out: Taco Bell's Twitter account. It's hilarious. It's not just something consumers taco-bout', but engage with: as a relatively large organization, Taco Bell has successfully humanized their brand persona to amass over 1.9 million Twitter followers as a community of users that speak back and forth with the brand and each other – far more than competitors like Burger King, Wendy's, etc.
They sell the same product type to consumers, but how they present their message is entirely different.
The same concept applies to your brand when it comes to Gen Z'ers – ensure that your messaging, across all channels, is succinct and segmented correctly!
All in all, advertising towards Gen Z as a demographic should really be communicating – not advertising.
Did you know that 92% of the online population uses emojis? It basically transcends language and culture!Emojis are a fun way to express ourselves online when communicating with others. Not only does it make conversations with friends online easier, but emojis can...