Ahoy! Welcome to our guide to Online Travel Agencies (OTAs).
Did you know experts predict that in 2022, the travel industry's ad spend will increase by 36%? Global travel is beginning to recover: travel and tourism marketers are gearing up to welcome travelers again, especially with the pent-up demand from the pandemic!
Expedia presented this ad at the 2022 Superbowl, featuring Ewan McGregor:
The messaging speaks to how travel is what enriches our lives and those experiences are what stays with us forever.
Travel marketers need to get the customer journey right because the experience starts with someone researching their next travel destination.
The travel customer journey has 5 stages:
Dreaming
Planning
Booking
Exploring
Remembering
Online Travel Agencies can inspire, influence, and convert travelers at every single stage. In this blog, we will be focusing on what they are, how they work, and why it's an excellent channel for travel and tourism brands and organizations to advertise on. Here's an overview of the topics we'll cover:
What are Online Travel Agencies (OTAs)?
An Online Travel Agency is a one-stop shop for travel. They are the self-serve alternative to an offline travel agency. Directly on an OTA website, people can:
Conduct research
Compare prices
Read reviews
Book hotel and/or flights
Rent cars
Purchase vacation packages and more
Online Travel Agencies are extremely popular because they offer a wide variety of options and a simplified process. They are essentially a third-party service that resells services on behalf of airlines, hotels, car rental companies, etc. They often offer package deals like "Hotel + Flight + Rental Car", or flash sales for specific dates or destinations. Because of this, OTAs are the most significant source of online bookings in the travel industry, boasting millions of visitors every day.
Editor's Note: Metasearch ads are similar but different. They exclusively focus on search and booking functions for hotels. Examples are Google Hotel Ads and Tripadvisor. We will build out a page for Metasearch in the near future.
OTAs act as a marketing channel and distribution channel. Companies that list on OTAs leverage the platform for brand awareness to drive bookings and sales.
Examples of Online Travel Agencies
Aside from Airbnb, the OTA industry is dominated by two major groups: Booking.com and Expedia.
Bookings.com owns the following products:
Priceline
Kayak
Agoda
Cheapflights
OpenTable
Momondo
Rentalcars.com
Expedia owns the following products:
Hotels.com
vrbo
trivago
Orbitz
Travelocity
Hotwire
Wotif
Expedia Cruises
Egencia
CarRentals.com
How Do Online Travel Agencies Work?
Online Travel Agency websites are easy to navigate as they were created to be conversion-driven websites to let people make an informed decision and efficiently book. Most of these OTAs have mobile apps optimized for easy user access. Here's an example of Expedia's mobile app layout:
For example, a hotel can list on Expedia, and it will show up when someone types "hotels in Orange County" in the search bar. People can read all about its amenities, browse images of its rooms, and read hundreds of reviews and more. They can then compare prices with hotel listings and book either on the OTA or directly with the hotel itself. And here are the options you can spruce up your listing to make it stand out:
For OTAs like Expedia, There are no upfront fees. Instead, a commission is charged to the company for each booking made on the Online Travel Agency site. The amount is typically a percentage of the overall sale and varies amongst different OTAs, but typically falls between 5 to 25%.
Who Should List on an OTA?
Online Travel Agencies are great for both big and small players in the travel industry. Why? Smaller or independent hotels might not have their own booking engines, so OTAs might be the sole source and driver of bookings. Big hotel groups like Hilton, or Marriot own subbrands and offer their own loyalty programs. They still list on OTAs to get in front of as many travelers as possible. OTAs can reach all types of travelers around the world, and it's an essential channel for travel vendors to diversify their audience reach.
Why Do Travelers Like Booking Through Online Travel Agencies (OTAs)?
The main reasons travelers like to book their trips on Online Travel Agencies are because the website and/or accomodating app is easy to navigate, which provides a smooth user experience. It grants them access to a global catalogue of accommodations and attractions, all while bypassing the traditional route of booking through a travel agent. OTAs also offer personalized recommendations based on the user's interests and traveling patterns. There's no doubt that the trend of travel bookings are moving online:
A survey revealed the top 10 reasons travelers prefer using OTAs.
Why Should You Advertise on Online Travel Agencies?
OTAs are a reliable marketing channel to:
Grow brand awareness
Increase ad reach and bookings
Test promotions
Stimulate sales by creating a sense of urgency (i.e., 47 people are currently viewing this hotel)
Reach international audiences that otherwise would be expensive to advertise to through other channels
Travelers use OTAs to compare travel options 50% more than hotel websites. We elaborate on other benefits of investing in OTAs:
Wider Reach with Less Investment
You have definitely seen TV, magazine, and online ads for Expedia or Airbnb. These OTA titans invest millions of dollars for brand awareness each year, trying to attract consumers worldwide to use their platform. OTA channels are especially useful for independent or smaller businesses with a limited marketing budget (meaning less reach). It gives them a low-risk opportunity to grow their business. Here's an example of Vrbo's website, which prompts users to explore properties that fits their needs: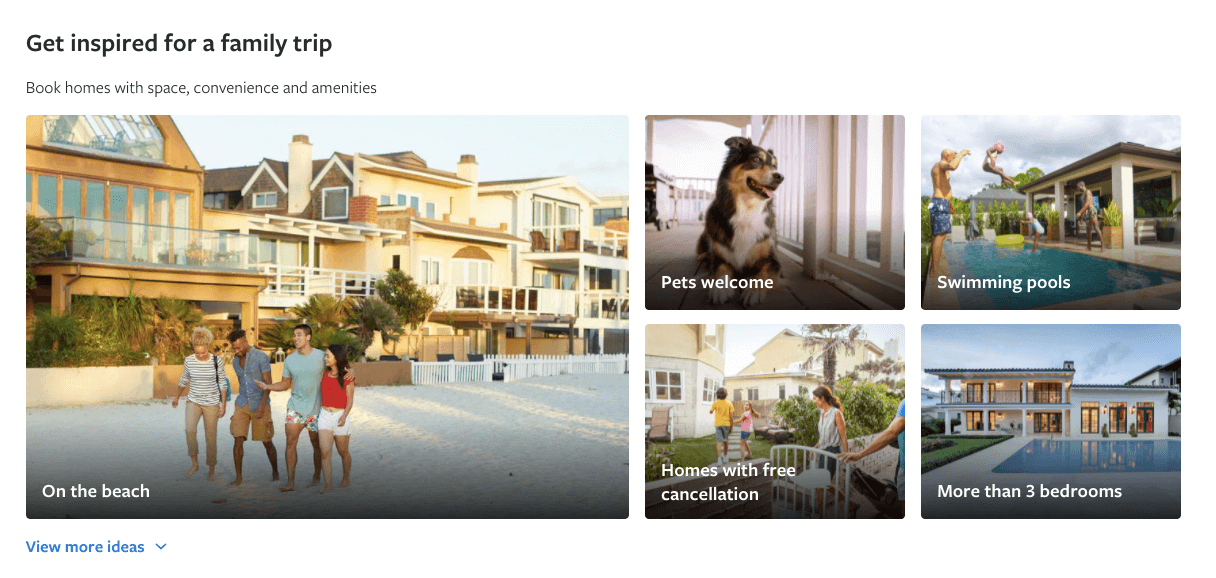 Online Travel Agencies have a LOT of consumer data. That's why they offer rich targeting options for marketers. Expedia offers an exclusive function for you to leverage first-party data to reach travel shoppers.
Accessible & Preferred by All Age Groups
An Oxford Economics x Expedia study revealed that OTAs are popular amongst all age groups, and over 18% of travelers say they use OTAs to book their travel (all or part of it).
As mentioned in the previous point, because these OTAs have rich user data, these platforms also boast numerous insights for you to analyze and optimize your marketing efforts.
Online Reviews Help You Sell
90% of travelers admit online reviews influence their decisions. Reading someone's first-hand experience is credible and even relatable.
For example, if Emma is looking for a dog-friendly accommodation, she could filter reviews on OTA sites for keywords on "pet-friendly" or "dog" and see how the experiences were of other guests who brought their pet.
You can view online reviews as digital word-of-mouth referrals. Referrals have an average conversion rate of 9.5% so listing on OTAs gives you the advantage of driving awareness of qualified travelers!
Encourages More Traffic to Your Website
Users might discover you on an Online Travel Agency and decide to look you up via search engine, which drives more traffic to your website. Users might even end up converting on your website instead of an OTA, which saves you from paying commission. Listing on OTAs is essential for travel-related businesses.
Most Common Types of Advertising on OTAs
Travelers like to shop around and visit multiple OTA sites. Visibility is the key to increasing bookings and boosting business results. Most OTAs are available on desktop, mobile, and offer their own apps. Your ad placements will show up on all channels and provide travelers with an integrated experience. Expedia noted that travelers who subscribe to their newsletters and those who use their mobile apps are more loyal and have higher intent and engagement. There are two types of ads that are the most common amongst OTAs: Display and Sponsored. Let's take a look at why they are so effective in marketing to travelers at all stages of the customer journey.
There are a few options of Display Ads available — think banner ads. You could spot these across the OTA site. If your pocket's deep enough, you could even be featured on the homepage for maximum awareness!
Sponsored listings mean you will show up in the top results for people searching for accommodations/attractions that match the parameters you have set, like keyword, location etc. (Exactly like how Search Ads work on Microsoft Bing or Google). You can expect more clicks to your listing than your competitors this way.
This is what it would look like:
How We Can Enhance Your Travel Ad Strategy
There is no doubt that Online Travel Agencies dominate the market share for bookings, and the industry is competitive. With so many destination options out there, it's crucial to have a solid strategy to stand out from the crowd. Companies suitable for listing on OTAs platforms typically already run Display Ads and Search Ads. OTA platforms require lots of time on campaign management and ongoing optimization. For example, small algorithmic changes on OTAs can significantly impact brands, immediately affecting business sales. To ensure a higher ranking, you would need to finesse and optimize your listings (like you do for Google with your SEO strategy) on a regular basis. At War Room, we aim to alleviate stress and offer expert advertising services. Our agency has over ten years of experience running digital ads for big brands, resorts, and Destination Marketing Organizations. Take a look at how we helped SkiBig 3 during the pandemic:
Let us touch upon some reasons why travel industry brands choose us as an ad partner:
Custom Campaigns For Your Needs
As your advertising partner, we will work closely with you to understand your brand, business goals, target demographic and seasonal offerings. Then, we customize an ad strategy, taking care of the campaign from the get-go, spanning from set-up, execution, optimization, and reporting. Our reports give you an in-depth view of your visitors' travel behaviors. We have lots of experience with seasonal promotions that require turning campaigns on and off at specific times of the year. We work with your budget and provide expert recommendations. We act as an extension of your team, working closely with you to serve great creatives, and run effective, paid ad campaigns.
Cross-Channel Approach (Not Just OTAs!)
Consider branching out and experimenting with other ad platforms to maximize audience reach. At War Room, we can weave your strategies across channels like Search, Display, and Social (and all these other channels). All the ad data would feed into each other, forming an ecosystem (instead of all channels being siloed). This leads to better retargeting and budget allocation and saves you more ad dollars down the road.
Pinterest and Over-The-Top (OTT) are examples of channels in which we're seeing great reception for our client campaigns lately.
Klick&Mortar: From Ad View to Physical Visit
Klick&Mortar is our proprietary technology that tracks when an ad is seen online until the user shows up to visit your location. The goal is to allocate your ad budget precisely and identify user behavior and patterns. You can plan your future marketing strategy based on the data-backed insights.
Here is how we helped Thompson Okanagan Tourism Association in driving traveler visits and delivering a 9 million economic impact to their region:
We hope you enjoyed our guide to Online Travel Agencies! As the travel industry continues to shift and evolve, you can expect us to update this guide with new insights as time goes on. To wrap it up, OTAs can put your business in front of highly-engaged travelers. Running ads on these channels can in turn increase bookings. If you're looking to drive more relevant audiences to your destination, War Room can help. Fill out the form below for a complimentary call and see if we're a good fit!
Want to convert people are who looking to book their next getaway? Connect with our experts and let's build you an effective ad strategy!
Digital marketing tools, you say? There are so many of them!Whether you're a small business or a big enterprise, digital should be a vital part of your marketing strategy. War Room has worked with brands of all sizes across industries. We're here to share the most...