Father's Day is coming soon!
Did you know that since 2009, the average spend on Father's Day presents has increased from $90 to $148? More people are looking to gift their fathers a unique gift or something that can create a special memory.
According to the National Retail Federation (NRF), the top 3 gift categories that increased in popularity were:
Personal Care (25%)
Home Gardening (21%)
Tools/Appliances (21%)
Like our Mother's Day and Valentine's Day blogs, we will be sharing some examples of Father's Day ads we think are pretty great! Why? As an advertising agency, we love a good ad that is creative and connects with the target audience. We try to publish these "Top Ad" blogs a few weeks before to get you in the mood for the special day.
Editor's Note: This blog will serve as a living document. We will be updating it each year with more Father's Day ads we think are neat!
If you follow our other blogs, you know we love a good Ryan Reynold ad, especially since he's a Vancouver boy! In 2018, Reynolds acquired a stake in Aviation Gin. Since then, he's been promoting the brand with his star power and signature humor.
In this ad, he teaches you how to make a tasty cocktail for Father's Day, cheekily named, "The Vasectomy" with deadpan delivery. You can really celebrate the "joys" the fatherhood, wink wink.
But we actually like the humor and the camerawork and lighting actually makes the cocktail very fresh and tasty. The gin featured is also a star in this ad.
Nike tells compelling stories with barely any dialogue. It shows a dad coaching his daughter basketball, and her trying her best, practicing shooting hoops.
The camera focuses on the basketball shoes in the beginning, giving the audience a good look at the product, the bounce in the step, and the colorful design. But what they're selling are moments like this, bonding through sports and forming forever memories!
This 30-second video shows a typical slice-of-life scene for dads with little ones. But it's a heartwarming one. Something as simple as milk and cookies as a late-night snack with dad could mean the world to a kid.
The messaging isn't only Oreo is a tasty snack, but to also cherish the moment with your loved ones, no matter if the gesture is big or small.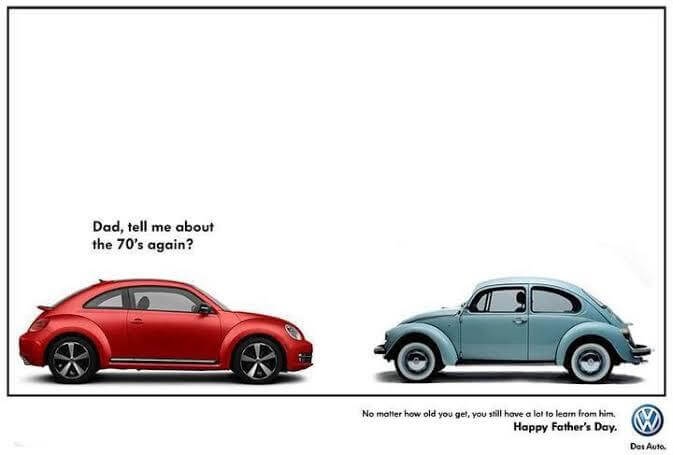 The print ad's caption at the very bottom says, "no matter how old you get, you still have a lot to learn from him."
Not only does it echo the notion that fathers know best, but it's also Volkswagon's way to show off how long they have been in the automobile game. The beetle is absolutely iconic and still going strong. The visual also is an easy contrast between the latest model with the old.
Selling your brand AND complimenting dads? That's an effective message and a win-win situation!
Being a caregiver for an aging parent is tough. It can be emotionally taxing as it is rewarding.
Razors are a typical Father's Day gift, and typically it's the father teaching a teenage son how to use it, so this reverse portrayal of an adult child assisting his aging father was a nice change. It's raw and intimate.
At the end of the cilp, Gilette states that over 4000 types of razors are designed to shave oneself, but none are designed to shave another person. Wow, that makes the introduction of the product even more impactful—the first razor designed for assisted shaving.
We think it's a great ad that perfectly showcases the product and unique value proposition — all while tugging on your heartstrings!
Dove debuted this commercial in 2020 amidst the COVID-19 pandemic. It is a compilation of videos and images shot on mobile since everyone was staying at home. The videos capture sweet and humorous moments between dads and their children. We love that they also take the time to acknowledge fathers working on the frontlines, those juggling working from home and being a dad. The montage is diverse, candid, relatable, and authentic.
Here is an ad produced by Lucasfilms. It shows different dads bonding with their children over the Star Wars franchise. Activities included: playing with Star Wars-themed toys like lightsabers, roleplaying, competing in video games, or reading books. Darth Vader's iconic quote, "I am your father," is repeated a few times throughout the clip (in a loving way, of course)!
The ad tells a story of the bond between father and children and the role Star Wars can play in it. It doesn't need to show the logo until the very end, but everyone will know the references, from the sound effects to toy models. No wonder Star Wars is one of the most successful film franchises in history!
Dove seems to be knocking it out of the park with human-centric, emotional ads!
Dove referenced a survey where 75% of dads say they are responsible for their child's emotional well-being. However, only 20% of them feel like that is reflected in media! So this ad is like Dove's serenade to acknowledge the caring moments of fatherhood.
We say: we approve, more love for dads!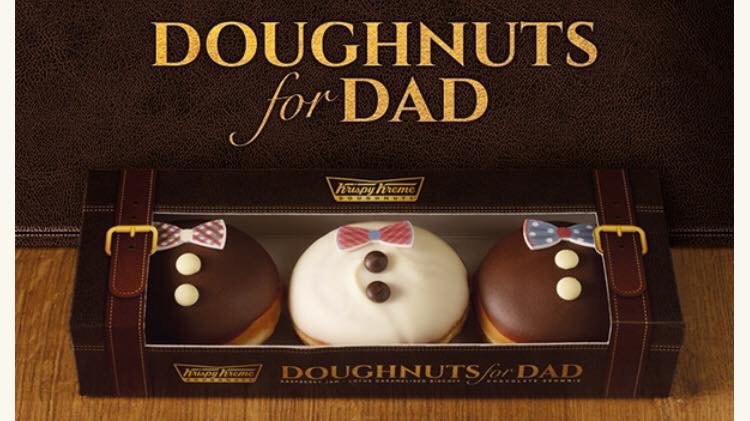 Here is a campaign Krispy Kreme had ran for Father's Day. A campaign that sells actual products that need seasonal packaging would have taken a longer time to prepare. So if you do plan on rolling out a campaign like this, do plan months ahead of time to ensure everyone involved has ample time to prepare. When you do, the presentation will be spectacular, like this one!
Firstly, the tagline "Doughnut for Dad" is straightforward, and the alliteration gives it a satisfactory "oomph." The little bow ties and buttons on the actual donuts add value to an otherwise simple cream donut. The box design elevates the gift. It's photogenic. We can picture people taking selfies with dad holding this donut gift box and posting it on Instagram. Get the people to spread the word for you—free PR!
We love smart humor and Footlocker delivered.
This Footlocker ad starts normal and sweet, some NBA prospects reminiscing about how great dad is and the moments they demonstrated their love. Then insert Lonzo Ball, son of LaVar Ball, talking about moments with dad, which are…not as typical. His delivery is hilariously deadpan and layered over the other prospects makes it even funnier.
If you are an NBA fan, you'd get the joke. The ad demonstrates that Footlocker really "gets" their target audience, which makes the ad successful.
To all the dads out there, we love and appreciate you. Happy Father's Day!
Say hello to customized advertising strategies that convert.
Get in touch with our programmatic experts today!
Pinterest is a social media channel that is often overlooked when it comes to advertising. But who doesn't have at least one Pinterest board with saved recipes that look delicious? Or of future dream vacation destinations? It's a highly visual and engaging platform...